Current Projects
Health Information Seeking and Avoiding in Europe (HISA)
The communication of health information is no longer limited to doctor-patient interaction. Particularly the Internet is also becoming increasingly important. However, not all people are willing and able to deal with health information. In a comparative study for Germany, Switzerland and the Netherlands, together with our cooperation partners from the Universiteit van Amsterdam, the Université Fribourg and the Università della Svizzera italiana, we are interested in the willingness of respondents to obtain information and the factors influencing the search for and avoidance of health information. Above all we focus on the barriers to information seeking behaviors.
» Contact Person: Elena Link, Eva Baumann
Project run time: since 12/2018
S3 guideline on the prevention of skin cancer
In the course of updating the S3 guideline on the prevention of skin cancer, we are engaged in a systematic literature review and analysis of the state of research on the prevailing state of information and knowledge of the population, doctor-patient interaction in the context of skin cancer screening, and strategies for addressing target groups.
» Contact Person: Elena Link, Eva Baumann
Project run time: since 2018
Attitudes towards persons with mental illness in a polarizing society
While public attitudes towards the treatment of mental illnesses improved between 1990 and 2011, acceptance of persons with severe mental illness has declined during the same period. Today, against a backdrop of an increasingly polarized public opinion on minority rights, persons with mental illness seem to be at risk of even stronger stigmatization. To be able to improve public attitudes in social contexts where negative attitudes are particularly pronounced, new perspectives on our understanding of the stigma of mental illness and on targeted interventions to improve stigmatization are necessary. Thus, Prof. Dr. med. Georg Schomerus from the Universitätsklinik Leipzig (PI) and Prof. (em.) Dr. med. Matthias Angermeyer from the Center for Public Mental Health and Prof. Dr. Eva Baumann (Hanover Center for Health Communication) investigate public attitudes towards persons with mental illness and focus on social contexts and the social function of stigmatization. The project, which is funded by the Fritz Thyssen Foundation, aims amongst other to reveal the impact of social milieus on the emerge of negative attitudes towards and stigmatization of people with mental illnesses. To learn more about the project, please click here or read an article in the journal of the Fritz Thyssen Foundation.
» Contact Person: Eva Baumann, Anna Freytag

Project run time: since 10/2018
Papers
Freytag, A., Baumann, E., Hahm, S., Angermeyer, M., & Schomerus, G. (2019, September). Of dangerous criminals and burned-out top managers: Public perception of media coverage on mental illness. Paper presented at the International Symposium on Anti-Stigma-Communication: "Communication and Stigmatization: Theory, Research, and Applications", 19.-20. September 2019, Dortmund, Germany.
HINTS Germany
More and more people search the Internet for health-related information and the role model in health care is changing. This requires an increase in patient's sovereignty, a solid knowledge base regarding health topics and the skills as well as the willingness of the patients to keep themselves well-informed HINTS Germany is a cooperation of the Stiftung Gesundheitswissen and the Hanover Center for Health Communication and is up to now the biggest national survey on the health information behavior of the adult German population. HINTS Germany is an adaption of the well-established "Health Information National Trends Surveys" (HINTS) that is regularly conducted in the US since 2003.
» Contact Person: Eva Baumann, Magdalena Rosset, Fabian Czerwinski
Project run time: since 03/2018
Reframing mental health
In a transdisciplinary project with the initiative "Die Pfalz macht sich/dich stark – Wege zur Resilienz" ("The Palatinate makes itself/you strong—ways to resilience") lead by Pfalzklinikum, we are developing a communication strategy which is capable to reframe metal health from a pathogenetic (disease- and treatment-related) to a salutogenetic (health- and prevention-oriented) approach. Integrating the perspectives of researchers and experts, health professionals, the public, the media, and relevant organizations in the field of mental health, the goal is to develop a framing strategy that motivates and engages the different groups as advocates for social change. The project is supported by FrameWorks Institute, an independent nonprofit communications think tank in Washington D.C.
» Contact: Eva Baumann, Magdalena Rosset, Miriam Jaspersen, Anja Dittrich
Project run time: since 03/2018
Presentation and Publications
Baumann, E., Rosset, M., Bomke, P., Kendall-Taylor, N., & Jaspersen, M. (2019, Mai). Changing communication to change perspectives: Theoretical foundation and multilevel research approach of a culture-bound reframing strategy for mental health promotion. Presentation at the Anuual Conference of the International Communication Association (ICA), May 24-28, 2019, Washington, D.C., USA.
Rosset, M., Jaspersen, M., Dittrich, A., Baumann, E., & Bomke, P. (2020). Mental health and illness in the public mirror. What pictures do the media draw and how do the people perceive them? Open Access Government. Available at www.openaccessgovernment.org/mental-health-and-illness/80562/
Longitudinal study of health status of music students and evaluation of a health and prevention program for music students
In cooperation with the Institute of Music Physiology and Musicians' Medicine (IMMM) at the Hanover University of Music, Drama, and Media, we are conducting a longitudinal analysis of the physiological and psychological health status of music students and their interest in a health and prevention program in their curriculum. The panel design of the evaluation study allows to gain insights into trends regarding the health status of music students as well as into changes of health-related attitudes and behaviors during music education at university. The project's goal is to improve health-related classes to effectively support different types of music students and to foster their preventive health behaviors.
Contact: Eva Baumann, Magdalena Rosset
Project run time: since 04/2017
Trust and Health Information Seeking
People who suffer from diseases need support to cope with emotional burdens and the prevailing subjective uncertainties during the course of disease. Needed support can be obtained from doctors, family or friends, as well as from media sources. Regardless of whom one turns to, trust is the basis to engage in meaningful interaction and to satisfy one's own needs. Nevertheless, trust is a dimension of information behaviors that has received little attention so far.
For this reason, we deal with the following questions with particular interest in health information behaviors of affected persons:
What role do different trust instances such as doctors play in the course of the disease? How do different instances interact with each other?
When and why is the Internet gaining importance for many patients?
What role does trust play as an influencing factor as well as outcome of information behavior?
A first overview of this field of research can be found in the publication "Vertrauen und die Suche nach Gesundheitsinformationen" by Elena Link.
» Contact Person: Elena Link
Project run time: since 2014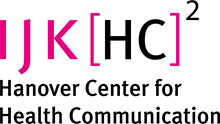 Last modified: 2020-01-21
To top