Current Projects
Attitudes towards persons with mental illness in a polarizing society
While public attitudes towards the treatment of mental illnesses improved between 1990 and 2011, acceptance of persons with severe mental illness has declined during the same period. Today, against a backdrop of an increasingly polarized public opinion on minority rights, persons with mental illness seem to be at risk of even stronger stigmatization. To be able to improve public attitudes in social contexts where negative attitudes are particularly pronounced, new perspectives on our understanding of the stigma of mental illness and on targeted interventions to improve stigmatization are necessary. Thus, Prof. Dr. med. Georg Schomerus from the Universitätsklinik Leipzig (PI) and Prof. (em.) Dr. med. Matthias Angermeyer from the Center for Public Mental Health and Prof. Dr. Eva Baumann (Hanover Center for Health Communication) investigate public attitudes towards persons with mental illness and focus on social contexts and the social function of stigmatization. The project, which is funded by the Fritz Thyssen Foundation, aims amongst other to reveal the impact of social milieus on the emerge of negative attitudes towards and stigmatization of people with mental illnesses. To learn more about the project, please click here or read an article in the journal of the Fritz Thyssen Foundation.
» Contact Person: Eva Baumann, Anna Freytag

Project run time: since 10/2018
Presentations
Freytag, A., Baumann, E., Hahm, S., Angemeyer, M. & Schomerus, G. (2020, April). Counselling, Gossiping, or Silence – Interpersonal Communication about Mental Illnesses and its Role for Stigmatization. Paper presented at the Kentucky Conference on Health Communication, April 1-3, 2020, Lexington, Kentucky, USA.
Freytag, A., Baumann, E., Hahm, S., Angemeyer, M. & Schomerus, G. (2019, November). Stigmatization of mental health: The role of social contexts. Paper presented at the European Conference on Health Communication, November 13-15, 2019, Zurich, Switzerland.
Freytag, A., Baumann, E., Hahm, S., Angermeyer, M., & Schomerus, G. (2019, September). Of dangerous criminals and burned-out top managers: Public perception of media coverage on mental illness. Paper presented at the International Symposium on Anti-Stigma-Communication: "Communication and Stigmatization: Theory, Research, and Applications", 19.-20. September 2019, Dortmund, Germany.
Counselling of Cancer Patients and their Families
In the course of a research cooperation with the Cancer Information Service of the German Cancer Research Center in Heidelberg, we are investigating the counseling needs of cancer patients and their relatives and how they have changed over the last 25 years. By analyzing the long-term data of the Cancer Information Service, insights can be gained about cancer-related information requirements against the background of various impact factors, such as the information's function or the state of disease.
Contact: Prof. Dr. Eva Baumann, Magdalena Rosset, M.A.
Project duration: since 06/2017
Cyberchondria
In cooperation with Prof. Dr. Marie-Luise Dierks and Prof. Dr. Astrid Müller from the Hanover Medical School (MHH), we investigate the dysfunctional consequences of excessive health-related information seeking on the Internet. The dysfunctional consequences include "cyberchondria". This describes that online users develop serious fears of becoming seriously ill through intensive online research of, for example, symptoms of illness.
An online survey of 1000 participants in an online access panel will be used to identify the influencing factors of "cyberchondria" and fear of illness. These include how health-related information is handled itself as well as socio-demographic, psychosocial and health-related factors and social context factors.
Contact: Prof. Dr. Eva Baumann, Dr. Elena Link und Dr. Dorothée Hefner
Project duration: since 2019
Digital Health Literacy in Primary Care
In April 2020, the graduation programme "Chronic Diseases and Health Literacy" was launched at the Hanover Medical School (MHH). The program aims to create theories, models, and empirical foundations that strengthen the concept of health literacy. Within this programme, one research project with the focus on digital health literacy is supervised at the Hanover Center for Health Communication.
Taking into account the digitization of medical care, digital health literacy needs to be strengthened in order to enable a comprehensive use of the new services. In this context not only the patients need new skills in dealing with the technological possibilities, but also for health professionals as providers of health services, required competences as well as the working environment change. The aim of this research project is therefore amongst others to determine the influence of GPs' digital health literacy on the literacy of the patients.
Contact: Jaqueline Posselt, Prof. Dr. Eva Baumann
Project duration: 04/2020 - 04/2023
FairMediaSUCHT – Media Guideline to Stigma-Free Media Presentation of People with Substance Use Disorders
Substance use disorders are among the most stigmatized diseases. For the development of stereotypes, prejudices, and discrimination, negatively connoted media representations play an important role. Substance-related addiction is portrayed as misconduct and as a sign of personal weakness rather than a disease, which raises the threshold for people to seek help and makes early preventive intervention difficult. Against this background, the aim of our cooperation project with Prof. Dr. Georg Schomerus of the University Leipzig, which is funded by the Federal Ministry of Health, is to analyze the media coverage about substance use disorders and to develop a media guideline. This guide is intended to give media substance use disorders in the media so that the social stigma is not reinforced, but rather that the reporting ideally even helps to reduce it.
Contact: Prof. Dr. Eva Baumann, Anna Freytag M.A.
Project duration: since 12/2019
Familiy communication and resilience
Nowadays, families are exposed to a variety of stressors and strains in their everyday lives. This is why stress is an unavoidable part of family life. Against this background, communication may not only appear to be an important resource that enables families to deal effectively with stressful events, but it is also regarded as one of the fundamental key factors in promoting family resilience and health.
In this research project, we want to investigate the role of family communication in family resilience in more detail. In the first step, qualitative interviews with parents were conducted. We asked how parent-child communication takes place in general, how it develops considering stressors and resources, and what contribution it can make to family resilience. In a second step, the role of communication for family resilience will be systematically investigated in a quantitative survey in summer 2020. Aims of the research project are to characterize family communication in a more differentiated way than before and to find out what contribution individual communication behavior, routines, content, and communication types make to family resilience beyond the dimensions already found in family resilience research.
Contact: Miriam Jaspersen, Prof. Dr. Eva Baumann
Project duration: since 2019
Health Information Seeking and Avoiding in Europe (HISA)
The communication of health information is no longer limited to doctor-patient interaction. Particularly the Internet is also becoming increasingly important. However, not all people are willing and able to deal with health information. In a comparative study for Germany, Switzerland and the Netherlands, together with our cooperation partners from the Universiteit van Amsterdam, the Université Fribourg and the Università della Svizzera italiana, we are interested in the willingness of respondents to obtain information and the factors influencing the search for and avoidance of health information. Above all we focus on the barriers to information seeking behaviors.
» Contact Person: Elena Link, Eva Baumann
Project run time: since 12/2018
Presentations
Link, E., Rosset, M., Baumann, E., van Weert, J., Fahr, A. & Schulz, P. (2019, November). First steps to a European perspective on health information seeking behaviors. Presentation at the European Conference on Health Communication, November 13-15, 2019, Zurich, Switzerland.
HINTS Germany
More and more people search the Internet for health-related information and the role model in health care is changing. This requires an increase in patient's sovereignty, a solid knowledge base regarding health topics and the skills as well as the willingness of the patients to keep themselves well-informed HINTS Germany is a cooperation of the Stiftung Gesundheitswissen and the Hanover Center for Health Communication and is up to now the biggest national survey on the health information behavior of the adult German population. HINTS Germany is an adaption of the well-established "Health Information National Trends Surveys" (HINTS) that is regularly conducted in the US since 2003.
» Contact Person: Eva Baumann, Magdalena Rosset, Fabian Czerwinski
Project run time: since 03/2018
Information Behavior and Well-Being in Times of the Corona Pandemic
The spread of the SARS-CoV-2 virus and the related government regulations have fundamentally changed the daily lives of many people. In a current research project, we are therefore investigating the question to what extent the information behavior and habits of people have changed because of the pandemic and what effect individual communication behavior has on mental well-being. The focus is on the seeking, avoidance, and processing of information disseminated by the media on the topic of Corona as well as interpersonal communication in general.
Contact: Anna Freytag, M.A., Dr. Elena Link und Magdalena Rosset, M.A.
Project duration: since 04/2020
Longitudinal study of health status of music students and evaluation of a health and prevention program for music students
In cooperation with the Institute of Music Physiology and Musicians' Medicine (IMMM) at the Hanover University of Music, Drama, and Media, we are conducting a longitudinal analysis of the physiological and psychological health status of music students and their interest in a health and prevention program in their curriculum. The panel design of the evaluation study allows to gain insights into trends regarding the health status of music students as well as into changes of health-related attitudes and behaviors during music education at university. The project's goal is to improve health-related classes to effectively support different types of music students and to foster their preventive health behaviors.
Contact: Eva Baumann, Magdalena Rosset
Project run time: since 04/2017
Mindfulness and smartphone use - The effect of mindfulness on online vigilance, stress and dysfunctional smartphone use (Kopie 1)
In current research, there is increasing evidence that mindfulness might be a protective factor against automatic, habitual, unconscious, and therefore often dysfunctional and harmful media use. In our project, we aim to test this empirically in multiple steps. In a first study, we surveyed participants of an eight-week mindfulness training (MBSR) before and after their course participation. The aim was to investigate whether participation in the training influenced smartphone and Internet use as well as the well-being of the participants. This way, we want to better understand how people can take advantage of the positive effects of new technologies and at the same time are not stressed by them. In a second study, we are currently investigating the connections between dispositional mindfulness, dysfunctional and automatic smartphone use as well as stress and well-being in a representative cross-sectional survey. Should mindfulness and its training prove to be a support for a more functional and less automated use of smartphones, our results could help to integrate mindfulness training more intensively into health care and media literacy training.
Project management: Dr. Dorothée Hefner, Anna Freytag, M.A.
Project duration: Since January 2019
Mobile Corona Testing for systematically relevant industries in Lower Saxony (sub-project "MCA-Response")
A transdisciplinary consortium has developed mobile corona test stations to regularly test as many people as possible for the coronavirus in system-relevant areas in the shortest possible time. The intention is to improve evidence on the dynamics of the virus spread and to give employees more confidence about their infection status. The increase in test capacities also makes an important contribution to the health protection of the population and the effective containment of the Sars-CoV-2 virus. The Lower Saxony Ministry of Science and Culture supports the project. The developed infrastructure will also be transferable to other locations and regions.
The focus of the Mobile Corona Analytics (MCA) project is a reliable and quickly available test for Sars-CoV-2 among employees in systemically relevant industries. In the sub-project ("MCA-Response") located at the Hanover Center for Health Communication, the attitudes, experiences and the information evaluation from the tested persons will be surveyed in a longitudinal survey with three waves. These results will be compared with the perceptions and assessments of the general population in Lower Saxony. Furthermore, the media coverage of tests for Sars-CoV-2 in the course of the pandemic will be analyzed. In this way, the dynamics of problem perceptions and evaluations, information needs, and information behavior as well as the public discourse are investigated. This should also help to identify communication challenges facing tests and to deal with them more effectively in the future, to further develop the mobile testing infrastructure and to adapt it to the needs of employees. Project partners are Prof. Dr. Stefanie Heiden and Prof. Dr. Thomas Scheper from the Leibniz University Hanover and Prof. Dr. Meike Stiesch from the Hannover Medical School.
Contact: Prof. Dr. Eva Baumann Dr. Elena Link
Project duration: since 04/2020
Social Change Through Empowerment and Participation
The project "Social Change Through Empowerment and Participation: Development and Implementation of an Advocacy Strategy for Mental Health Promotion" builds on findings of the project "Reframing Mental Health". Based on the derived communication strategy, it aims to establish a new understanding of mental health at different levels through a systematic reframing process. The project is carried out in cooperation with the initiative "Die Pfalz macht sich/dich stark - Wege zur Resilienz" of the "Pfalzklinikum" The follow-up project focuses on promoting resilience as a form of primary prevention in the context of dementia. The aim is to develop, test and implement concrete messages based on the research of the project "Reframing Mental Health" and the derived communication recommendations, which are able to establish a new understanding of mental health and resilience - especially with regard to dementia. The implementation, which will be continuously evaluated, follows a social-ecological approach and an advocacy strategy that aims to involve the public by mobilizing key actors from different contexts as multipliers. The aim is to motivate members of the public to take action close to everyday life in order to support the solutions sought.
Contact: Prof. Dr. Eva Baumann, Magdalena Rosset, M.A., Miriam Jaspersen, Dipl. Medienwiss.
Project duration: since 07/2020
Trust and Health Information Seeking
People who suffer from diseases need support to cope with emotional burdens and the prevailing subjective uncertainties during the course of disease. Needed support can be obtained from doctors, family or friends, as well as from media sources. Regardless of whom one turns to, trust is the basis to engage in meaningful interaction and to satisfy one's own needs. Nevertheless, trust is a dimension of information behaviors that has received little attention so far.
For this reason, we deal with the following questions with particular interest in health information behaviors of affected persons:
What role do different trust instances such as doctors play in the course of the disease? How do different instances interact with each other?
When and why is the Internet gaining importance for many patients?
What role does trust play as an influencing factor as well as outcome of information behavior?
A first overview of this field of research can be found in the publication "Vertrauen und die Suche nach Gesundheitsinformationen" by Elena Link.
» Contact Person: Elena Link
Project run time: since 2014
Vaccination discourses in parents' online forums from 2012-2019
Against the background of the high importance of vaccination and the vaccination rates classified as too low by politics and international action plans, the project deals with vaccination discourses in parents' online forums. By means of a complete analysis of four German-speaking forums (2012-2019), using the quantitative-explorative approach of topic modeling we identified main topics within online discussions around vaccination. In cooperation with Dr. Marko Bachl (University of Hohenheim), the study serves to gather insights into the interests, opinions, and experiences with vaccination expressed in online forums.
Contact: Dr. Elena Link
Project duration: since 08/2019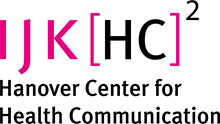 Last modified: 2021-01-13
To top