[HC]²-Team
Eva Baumann, Ph.D., is professor of communication science at the Department of Journalism and Communication Research at Hanover University of Music, Drama, and Media, Germany and head of the department's Hanover Center for Health Communication. In 2002 she earned her diploma in Media Management and in 2008 her Ph.D. in communication science in Hanover. Before she returned to Hanover in 2015, she was a postdoctoral researcher at the Münster University, held interim professorships at the University of Erfurt and the University of Munich and was a member of the Bielefeld School of Public Health at the University of Bielefeld. Her research interests focus on health and risk communication, particularly on information behaviors, on targeting and message strategies, and on framing health and social change. In her empirical research, she combines qualitative and quantitative research methods. »See also

Fabian Czerwinski, PhD is a research assistant at the Hanover Center for Health Communication at Hanover University of Music, Drama and Media, Germany (since 12/2015). After studying Sociology and Public Health at Bielefeld University, he worked for outpatient addiction aid services in Bielefeld and Hamm, before he returned to science as a research assistant and PhD student at the School of Public Health at Bielefeld University (2013-2015). In his PhD thesis he analysed contextual influences on several health behaviors of children and adolescents. Beside this topic, his research interests contain the prevention of risk behavior and progressive approaches to health promotion as well as quantitative methods and evaluation designs. »See also
Elena Link, Ph.D. is a research assistant at the Department of Journalism and Communication Research at Hanover University of Music, Drama and Media, Germany. After studying Media Management at the Department of Journalism and Communication Research she worked for the agency for communication analysis and consultation aserto GmbH & Co.KG. 2013 she return to the Department as an research assistant and PhD Student in the Project Biofabrication for Nife before changing to the Hanover Center for Health Communication. Her ongoing research focus are communication and social support in online communities as well as the influence and importance of trust in physicians and media information for information behaviors in health contexts. »See also
Anna Freytag, M.A. is a research assistant at the Department of Journalism and Communication Research. After her Abitur, she studied media management at the IJK and communication sciences at the Université Stendhal in Grenoble, France. During her studies she participated in numerous scientific projects. Following her studies, Anna Freytag first worked as a press officer for the German-French broadcaster ARTE in Strasbourg and then spent two years in the Big Data and Media Intelligence inustry in Berlin. Her research focuses on stereotypes and stigmatization, media literacy and mindful media use. At [HC]² she is responsible for the project "Attitude towards people with mental illness in a polarizing society". »See also
Miriam Jaspersen is a research associate at the Department of Journalism and Communication Research since April 2018. Previously, she worked as a research assistant at the University of Applied Sciences in Hanover on a BMEL-funded research project on bioplastics. After completing her studies in media management, Miriam Jaspersen worked for three years at Dievision, an agency for strategic communication, and for over 10 years in the areas of product communication, strategic marketing and global brand management at Sennheiser electronic GmbH & Co. KG. At the Hanover Center for Health Communication [HC]² she is part of the project Re-Framing Mental Health. »See also
Jacqueline Posselt, M.Sc. has been a fellow of the PhD program "Chronic Diseases and Health Literacy (ChEG)" at the Hanover Center for Health Communication since April 2020. The focus of her dissertation project lies on digital health literacy in primary health care. Prior to this, she completed a Bachelor's degree in Health Management as well as a Master's degree in Public Health at the Hanover Medical School and worked for several years in a health insurance company.
Magdalena Rosset, M.A. is a research assistant and PhD student at the Department of Journalism and Communication Research at Hanover University of Music, Drama and Media, Germany. After training as a Specialist in Media and Information Services at the university library of the Technical University in Berlin she earned her bachelor's degree in Communication Science and Sociology at the Friedrich Schiller University Jena and her master's degree in Media Management at the Hanover University of Music, Drama, and Media. Her research interests focus on health communication, particularly on framing mental health and on health information seeking behavior. »See also
Annika Redmer, B.A. is student assistant in the project "Re-Framing mental health" at the Hanover Center for Health Communication ([HC]²).
She has a Bachelor in Communication Science (main subject) and International Relations (minor subject) from the University of Erfurt. The topic of her bachelor thesis was "Perfection of Correction - The Effect of Corrections in Liveblogs". Since October she follows her Master studies in Communication and Media Research at the Institute for Journalism and Communication Research (IJK) of the HMTMH.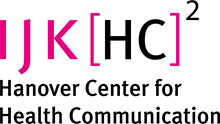 Last modified: 2020-04-27
To top